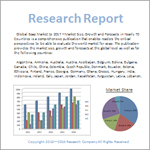 ◆英語タイトル:
Global General Purpose Electronic Test and Measurement Instruments Industry
◆発行会社/調査会社:
Global Industry Analysts
◆商品コード:GIA906074
◆発行日:2019年5月
◆調査対象地域:グローバル
◆産業分野:産業未分類
◆ページ数:707
◆レポート言語:英語
◆レポート形式:PDF
◆納品方式:Eメール
◆販売価格オプション(消費税別)
※販売価格オプションの説明はこちらで、ご購入に関する詳細案内はご利用ガイドでご確認いただけます。
※お支払金額は「換算金額(日本円)+消費税+配送料(Eメール納品は無料)」です。
※本体価格が¥30,000未満のレポートにつきましては、ハンドリングチャージ¥5,000が別途かかります。
※Eメールによる納品の場合、通常ご注文当日~2日以内に納品致します。
※レポート納品後、納品日+5日以内に請求書を発行し、お客様宛に郵送いたしますので、請求書発行日より2ヶ月以内に銀行振込にて支払をお願いします。(振込先:三菱UFJ銀行/京橋支店/H&Iグローバルリサーチ株式会社)
※Global Industry Analysts社の概要及び新刊レポートはこちらでご確認いただけます。


Global Industry Analystsが発行した当調査レポートでは、汎用電子検査及び計測器の世界市場について調査・分析し、汎用電子検査及び計測器の世界市場規模、世界市場動向、世界市場予測、セグメント別分析、主要地域分析・市場規模予測、関連企業情報などをお届けいたします。
*** レポート概要(サマリー)***
This report analyzes the worldwide markets for General Purpose Electronic Test and Measurement Instruments in US$ Thousand and Units by the following Product Segments: Multimeters, Logic Analyzers, Signal Generators (Radio Frequency Signal Generators, Microwave Signal Generators, & Arbitrary Waveform Generators), Oscilloscopes (Digital Oscilloscopes, Analog Oscilloscopes, & PC-Based Oscilloscopes), Spectrum Analyzers, Network Analyzers, Extension-Based, and Others.
The report further analyzes by the following End-Use Industries: Communications, Aerospace & Military/Defense, Electronics Manufacturing, Industrial Electronics & Automotive, and Others. The report provides separate comprehensive analytics for the US, Canada, Japan, Europe, Asia-Pacific, Latin America, and Rest of World.
Annual estimates and forecasts are provided for the period 2016 through 2024. Also, a five-year historic analysis is provided for these markets. Market data and analytics are derived from primary and secondary research. Company profiles are primarily based on public domain information including company URLs.
The report profiles 166 companies including many key and niche players such as:
-
Advantest Corporation
- Anritsu Corporation
- AstroNova, Inc.
- B&K Precision Corporation
- Fortive Corporation
- GaGe Applied Technologies, Inc.
*** レポート目次(コンテンツ)***


---